HOW PARTNERS ARE CREATING AN INCLUSIVE NATURAL ESCAPE ON A NALT CONSERVATION AREA
"The outdoors is for everyone" is a mantra many of us have heard, but what does it truly mean? For someone with mobility challenges, exploring a new outdoor area means overcoming unforeseen difficulties including "parking, restrooms, curbs, stairs fences, gates, cattle guards, cow patties, gravel, rocks, roots, flat tires, mud, sand, boardwalks, independence," and the list goes on, according to Virginia Rose of Birdability, a mapping application devoted to giving crowd-sourced reviews on accessible natural areas. Creating and facilitating an outdoor space that is inclusive of everyone means looking beyond access and ADA trails to consider recreation, use and the entire experience of being outside. And when that all-encompassing experience is built for everyone, the benefits of confidence, community, purpose, freedom, happiness and empowerment abound.
This inclusive bigger picture is exactly what long-time hunters Chris Vick, Dennis Byrne and Scott McKinney have been envisioning since they purchased the Long Branch Lakes Conservation Area two years ago in rural Spencer, Tennessee. Conserved under Conservation Easement with North American Land Trust (NALT) in the early 2010's, this series of conserved properties makes up over 1,000 acres. Having surveyed the property prior to its series of easement donations, Chris of Vick Surveying LLC, knew just how special this land was with its 80-acre lake, mix of smaller bodies of water, open space and forests full of game species. Chris, Dennis and Scott purchased the land from the original owner with the dream to invest in people with special needs by making hunting accessible to them.
With this goal in mind, they got to work learning the property, creating a suitable road structure, maintaining existing roadways, and getting the place back up and running. Working within their Reserved Rights outlined in NALT's Conservation Easements, they spent time and resources improving soil health for quality crops, improving habitat structure, creating food plots and enhancing the land. They also partnered with the Natural Resources Conservation Service and United States Department of Agriculture to control hog populations for the wildflower plantings, native grass plantings, annuals and perennials and controlled burns.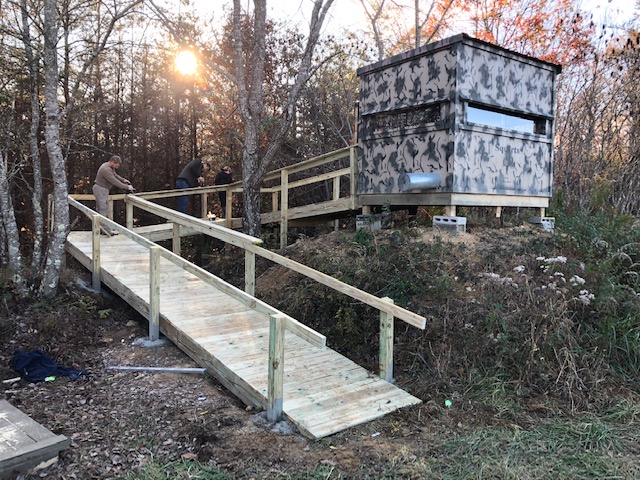 As for the inclusive structures on the property, they've accommodated electricity and running water, and built thoughtful blinds; some are on ground level, others are elevated with ramps, and then some are at a higher vantage point, so they can more easily carry visitors to them. These blinds are different than typical blinds in that they're larger in order to accommodate multiple people and wheelchair users. Scott explains that, "We've had to consider sound, too, to make sure folks can express themselves freely. When some of them get really excited, they get happy and thrilled, and these blinds give them the freedom to be themselves in that moment."
Originally, they focused on creating this hunting experience for children with special needs, but since then they've expanded their vision to include adults and ultimately, terminally ill children and their families. So far, they've connected with individuals and groups, working with people with physical challenges, wheelchair users, and kids with varying degrees of autism. They also partnered with Hero Hunt, a nonprofit organization out of Nashville, Tennessee that works with firemen, law enforcement and military who have been injured in the line of duty. In November, they were able to host four Hero Hunt hunters. Chris remarks, "We all had a great weekend and it was an honor for us to be able to give these men special weekend of hunting. Each of the hunters were able to harvest at least one animal." Since opening, all of their visitors achieved a 100% success rate in harvesting an animal.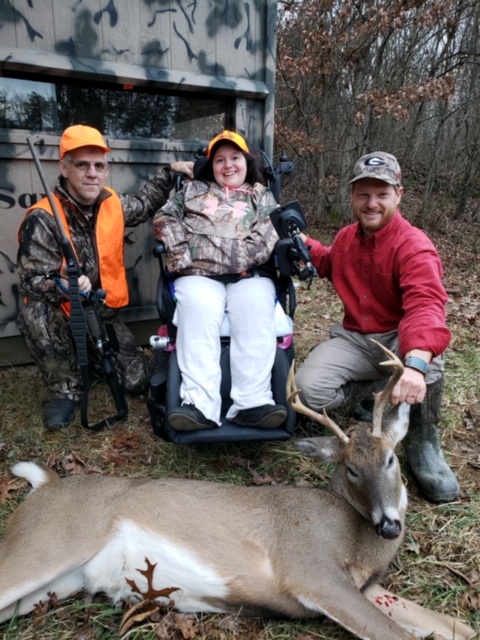 Every hunting outing includes the visitor with their caretaker or parents, the hunter, either Chris, Dennis or Scott, plus a videographer. Together, they visit the property before setting up for the hunt, so that everyone can enjoy the full outdoor experience. To ensure safety, they've worked with the Tennessee Wildlife Resource Agency, and they've built a great relationship with officers in the area who also assist when needed. All of their hunters have gone through a hunter safety course and acquired a license, including any of their visitors who handle weapons (though most visitors are not handling them personally). Following the hunt, visitors receive a video recording of their experience, so they can revisit that special memory whenever they want.
Dennis recalls working with one woman in her late 20's. She visited with her caretaker and wanted to handle the gun during the hunt, but being quadriplegic, pulling the trigger on a hunting rifle was not possible for her. Knowing this beforehand, the three partners found a company that created a customized gun for her; the trigger mechanism was adapted to allow her to hit her head or squeeze her teeth, so that she could see and fire independently. They also worked with another man named Bradley, who arrived in his wheelchair with his parents who wanted to provide positive moments for him. Following a day of hunting, his parents told the partners, "it's so amazing to see someone else pour into Bradley the same amount we've poured into him."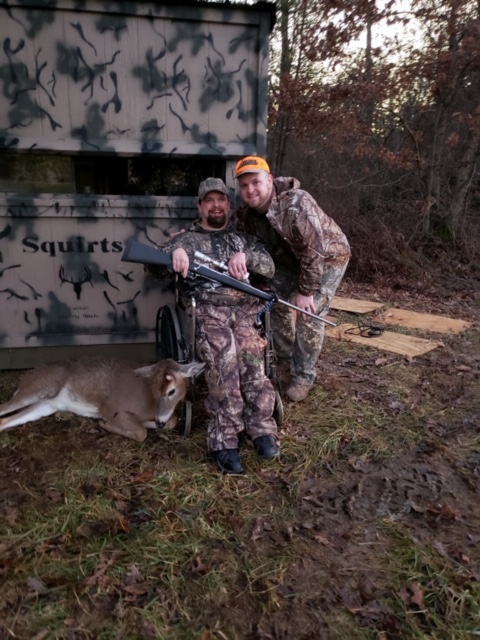 It's this positive feedback and appreciation that make all of their hard work worth it. Scott explains, "Every single interaction we've had has been extraordinarily rewarding to us and to them, and everybody wants to come back." Expanding on their vision, their next big goal is to work on expanding their bathroom facilities to better serve their visitors, and then they plan to construct a small lodging area where guests can comfortably stay with their families for a day or two. They're also in the early stages of building a website and online presence to attract more visitors to their location.
Fortunately, the three partners have family that support and embrace their vision; Dennis explains, "We love the way the land is tied up and conserved forever, and our kids recognize that vision and want to carry it into the future. This is generational, so it's not going to change with them." Noting that fewer hunting licenses are sold every year, the partners also hope that they can bring in as many people into hunting and fishing as they can. Chris says, "We want to keep hunting alive, and we want to keep giving back."
-By Monica McQuail, Communications & Stewardship Assistant