PROTECTING ONE FAMILY'S DEDICATION TO THE LAND
Now with the spring season in full bloom, many of us are spending these warmer days in our backyards, planting flowers that attract pollinators, weeding invasives to make room for native species, raking debris and cultivating the land for a summer or fall harvest of fruits and veggies. In return for stewarding the land, we reap the mental, physical and spiritual benefits associated with being outside, but it begs the question; who will care for this when I am gone? Planning for the end of life may be an uncomfortable topic to discuss, but it's a reality that many dedicated landowners face, especially when developments threaten the land that they have meticulously looked after for a lifetime.
One solution guaranteed to give landowners peace of mind is a conservation easement, which is exactly what the Cosby siblings learned when they decided they needed someone to care for their home and garden outside of Richmond, Virginia. "Garden," however, does not quite do this property justice. The 80 acres is home to 2,000 varieties of azaleas, 300 varieties of rhododendrons and numerous ornamental perennials and annuals, plus farmland and Virginia woods. It is a work of art that has been cultivated by the three siblings over the past 40 years.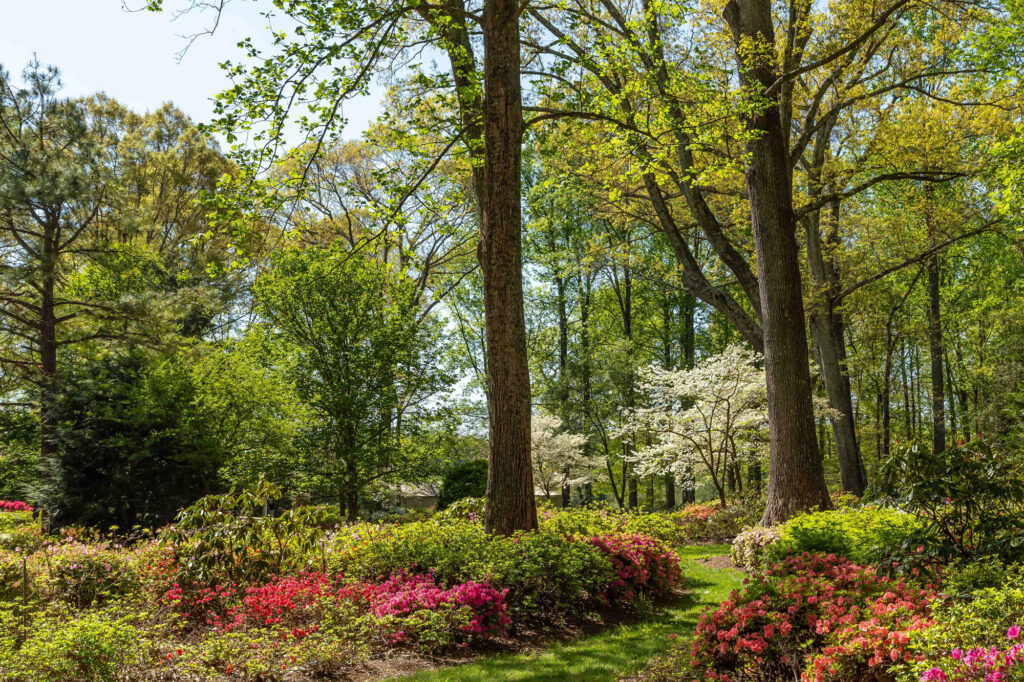 Of the 11 Cosby siblings, Elizabeth, Madeline and Reverend Monsignor Roy Cosby purchased the property so that they could care for their younger brother, Andrew, who had developmental disabilities and needed a rural, peaceful home later in life. They began planting vegetables and daffodils, but their azalea collection soon expanded exponentially with new cuttings and rare varieties making their way into a thoughtfully crafted 3-acre landscape. Why azaleas? Elizabeth explains, "Because we think azaleas are the most beautiful plants anyone can invest time in." Natural landscape designers, the siblings kept the azaleas well organized in clusters of colors along immaculate paths, all with labels and a regularly updated inventory.
Not wanting their hard work and dedication to be for naught, in 2009 the Cosbys approached Lewis Ginter Botanical Garden to see if the Garden would be interested in taking ownership of the property after they were gone. After many long and thoughtful conversations, the Garden staff encouraged the family to secure the land under conservation easement, which they did that year with North American Land Trust (NALT). Remaining ever humble, the siblings opted for the name Lewis Ginter Nature Reserve over Cosby Family Farm. Elizabeth recounts, "I thought [NALT staff] were wonderful; they did everything in the world they could to make sure this land was protected.  Someone will be around to check on it in the future, forever." Father Roy adds with a laugh, "They will make sure Lewis Ginter behaves."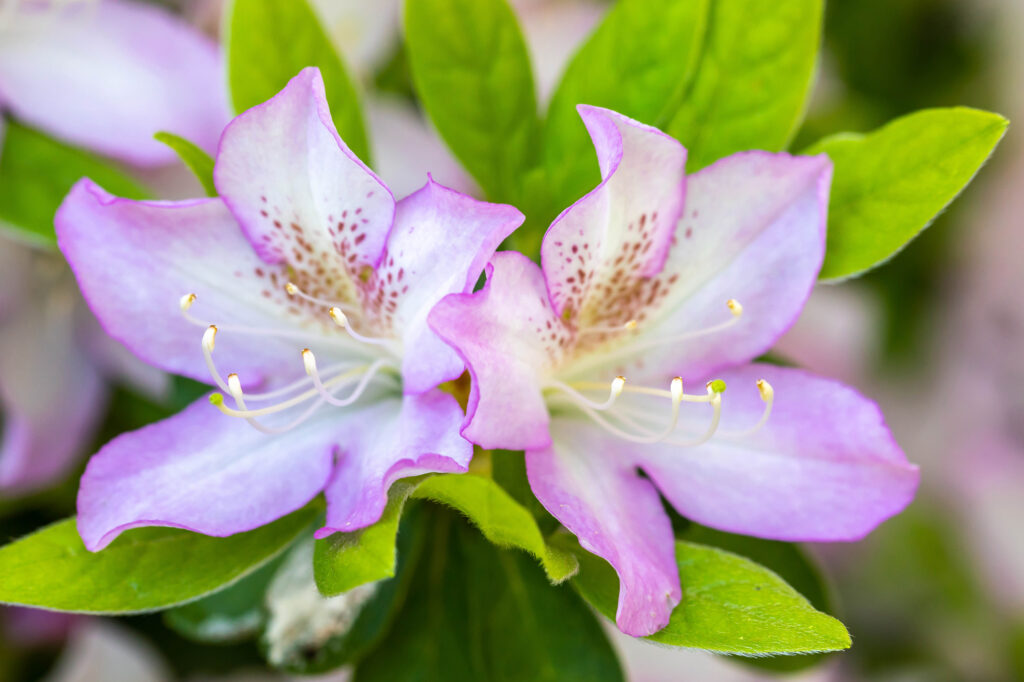 And Lewis Ginter has done just that and more. In 2014 Lewis Ginter Board Resolutions "acknowledged the Garden's commitment to the family's legacy and the willingness to accept and manage the reserve on the family's passing," describes Executive Director Shane Tippett. Beginning that month, Garden staff joined the Cosby siblings in their day-to-day work, so that they could learn alongside them. In addition, the Cosby siblings and the Botanical Garden took the necessary proactive steps to transfer the Reserve to the Lewis Ginter Botanical Garden before the family passed, while allowing them to continue living and working on the Reserve.
Today, Elizabeth and Father Roy continue to live at their homestead and care for their azaleas, which are bursting with shades of pinks, reds, whites, yellows and purples during this time of year. Andrew died in 2012, and Madeleine passed away in 2016 at the age of 97, so it's just Elizabeth and Father Roy. However, they have the unwavering support of the Botanical Garden, which pledges to ensure that Elizabeth and Roy continue to live on and enjoy their property for as long as they desire. And of course, they will always have NALT to make sure their conservation goals are upheld in perpetuity. For Elizabeth, she decided that that land should be conserved forever, "so that there will be no family squabbles about the use of the land. We made clear what we wanted done." As for Father Roy, he wanted to conserve their special property under easement "so it is never used for anything but the intentions of the Botanical Garden."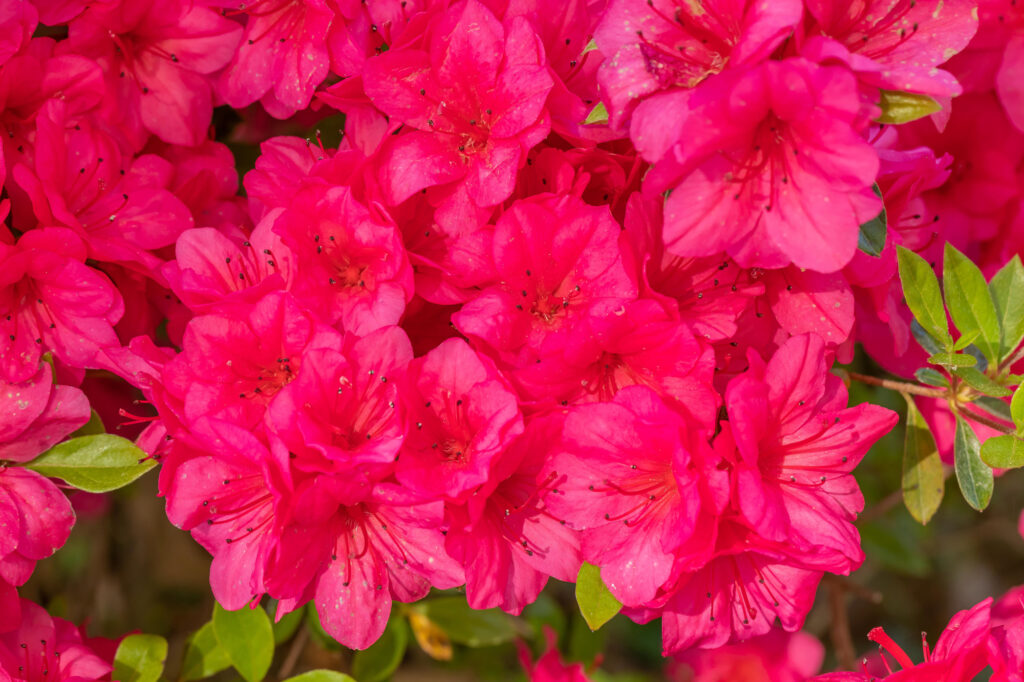 What are the Botanical Garden's intentions for the Lewis Ginter Nature Reserve? They envision the potential for a dedicated arboretum, a site for trial or test beds and other sites for collaborative horticultural activities with community partners, including community colleges, universities and other gardening initiatives. They also intend on honoring the intention of the siblings and their original purpose for the land by creating an educational and therapeutic natural space for individuals with developmental disabilities, those suffering from trauma, wounded veterans and urban youth. Shane Tippett puts a conservation lens on the Reserve, explaining that "Conservation of resources is not only a responsibility, but increasingly a mandate for the long-term survival and health of the interrelated ecosystems of which humans are an influential part. Conservation is embedded and implied in many aspects of the Garden's strategic plan."
For NALT, working with such visionaries as the Cosbys, in partnership with conservation-minded folks at Lewis Ginter Botanical Garden, has been a privilege, and protecting their azaleas an honor. NALT President Stephen Thor Johnson shares his appreciation for the Cosbys and other landowners who actively care for the land, "NALT is delighted to work with landowners such as the Cosbys to promote and support their stewardship of the land, beyond mere compliance with the terms of the conservation easement. It is one of the most interesting and satisfying parts of our mission." Planning for later in life doesn't have to be filled with uncertainty and stress when conservation is an option.
–By Monica McQuail