Save a piece of history.
Support the creation of a community space at Brinton Run Preserve.
Brinton Run Preserve is one of the most important tracts on the Brandywine Battlefield, now owned by NALT, thanks to our incredible supporters! Located in northern Chadds Ford Township along the Brandywine Creek Greenway, its 72 acres support a variety of wildlife habitats, including woodlands, fields, streams and a pond. Looking for an alternative to development, the former owner, Mrs. Frank Baldino, approached NALT for a shared conservation solution. Our goal is to ensure this land will never get developed and open it to the public, so visitors can appreciate this piece of nature and its rich history. This will be NALT's very first public preserve!
History
Just 3 miles from NALT headquarters, within the Dilworthtown Historic District and across from the historical Brinton 1704 House, Brinton Run Preserve played a role in a final skirmish during the Battle of the Brandywine, as you can see below.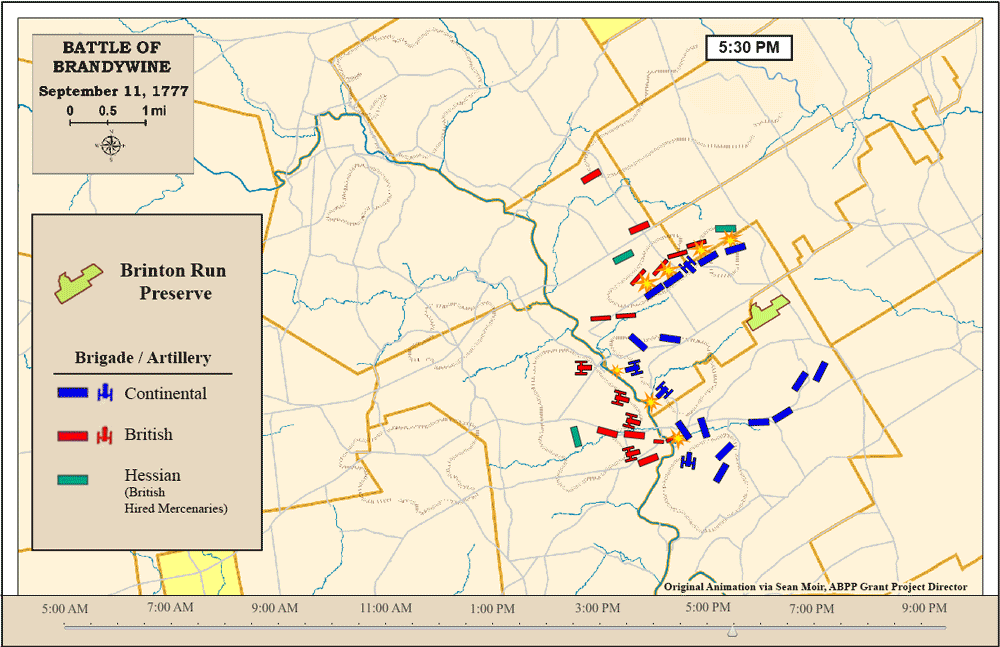 On September 11, 1777, General George Washington was determined to prevent the British from capturing the American seat of government, Philadelphia. Taking up positions along Brandywine Creek, Washington mistakenly believed that his army blocked all fords across the Brandywine. Opposing Washington was an army of 15,500 British Regulars and Hessian troops. While one detachment demonstrated against the American front at Chadds Ford, the bulk, hidden by heavy fog, crossed further upstream. When the main British force appeared undetected on the Continental right flank, Washington dispatched troops to shore up the position. Despite putting up a stiff resistance, the Continentals were eventually overrun. A stout rearguard action and organized retreat kept the defeat from turning into disaster. Although the British went on to occupy Philadelphia, the bulk of the Continental Army survived to fight another day. All told, approximately 30,000 troops were engaged in the fighting, with nearly 1,900 combined total casualties.

– American Battlefield Trust
Funding & Vision
NALT was able to raise $3.85 million to purchase the property with financial support from the American Battlefield Trust, Chadds Ford Township, Delaware County's Open Space and Recreation Grant Program, Mt. Cuba Center, the National Park Service's American Battlefield Protection Program, and the Pennsylvania Department of Conservation and Natural Resources.
In addition to removing a modern home, NALT plans to reintroduce native plant species across the property, undertake riparian maintenance, implement a trail system and create opportunities for community programming with a variety of local partners. Interpretive opportunities to help passive recreational users better understand the history of the Battle of Brandywine are also in the works. Through local partnerships with the Brinton 1704 House, Chadds Ford Township and other groups, NALT hopes to create a community space where everyone is welcome to enjoy nature and appreciate the unique history of Brinton Run Preserve. We will place a conservation easement on the land, held by Chadds Ford Township, protecting it in perpetuity. Read more here.
Purchasing the property was the first step, but we still have a long way to go before we can complete our vision for Brinton Run Preserve and the greater community.
Help us create pollinator meadows, trails, educational programming and more by contributing to the Brinton Run Preserve operating fund.
Brinton Run Preserve is currently closed to the public, but stay updated on our progress and get naturalist updates by signing up for our Friends of Brinton Run Preserve mailing list below or following our Facebook and Instagram pages!
If you have any questions about Brinton Run Preserve, contact us here.