Save a piece of history.
Support the creation of a community space at Brinton Run Preserve.
Background
Brinton Run Preserve is one of the most important tracts on the Brandywine Battlefield in need of protection. Located in northern Chadds Ford Township along the Brandywine Creek Greenway, its 72 acres support a variety of wildlife habitats, including woodlands, fields, streams and a pond. Looking for an alternative to development, the current owner, Mrs. Frank Baldino, approached NALT for a shared conservation solution. Our goal is to ensure this land will never get developed and open it to the public, so visitors can appreciate this piece of nature and its rich history. This will be NALT's very first public preserve!
History
Just 3 miles from NALT headquarters, within the Dilworthtown Historic District and across from the historical Brinton 1704 House, Brinton Run Preserve played a role in a final skirmish during the Battle of the Brandywine, as you can see below.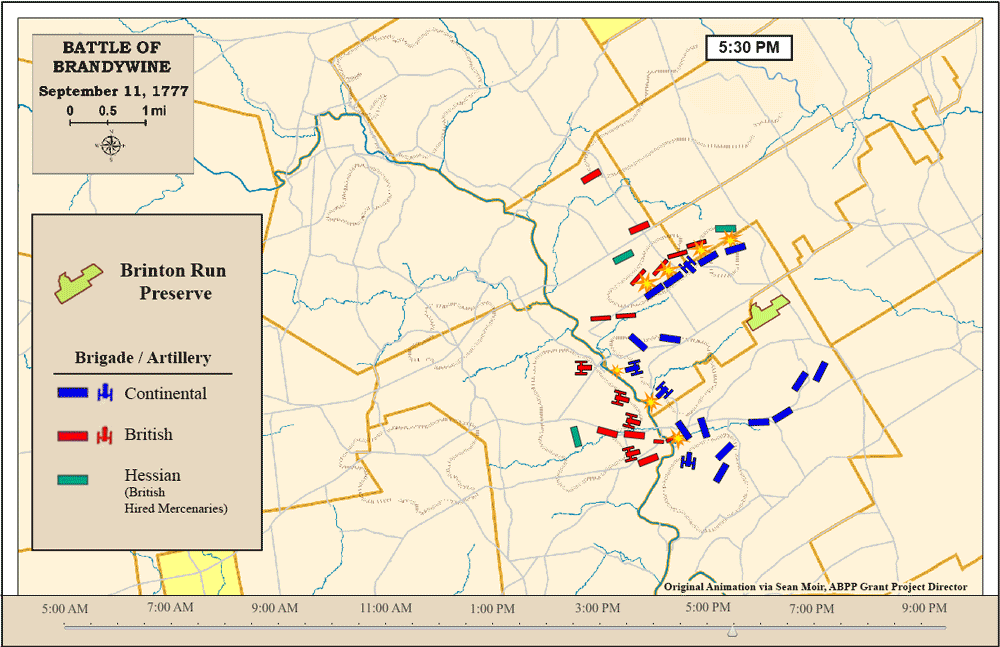 On September 11, 1777, General George Washington was determined to prevent the British from capturing the American seat of government, Philadelphia. Taking up positions along Brandywine Creek, Washington mistakenly believed that his army blocked all fords across the Brandywine. Opposing Washington was an army of 15,500 British Regulars and Hessian troops. While one detachment demonstrated against the American front at Chadds Ford, the bulk, hidden by heavy fog, crossed further upstream. When the main British force appeared undetected on the Continental right flank, Washington dispatched troops to shore up the position. Despite putting up a stiff resistance, the Continentals were eventually overrun. A stout rearguard action and organized retreat kept the defeat from turning into disaster. Although the British went on to occupy Philadelphia, the bulk of the Continental Army survived to fight another day. All told, approximately 30,000 troops were engaged in the fighting, with nearly 1,900 combined total casualties.

– American Battlefield Trust
Funding & Vision
Thanks to incoming funding from American Battlefield Trust, Delaware County, Chadds Ford Township and other dedicated contributors, we will acquire the property early next year, place a conservation easement on the land with the help of our partners, and funding permitted, ultimately create a community space with pollinator meadows, walking trails, interpretive signage, historical information and community-based land stewardship programming for our community, with the help of our partners at The Land Conservancy for Southern Chester County and other local conservation organizations. Read the official press release found here.
Purchasing the property is the first step, but we still have a long way to go before we can complete our vision for Brinton Run Preserve and the greater community.
Help us create pollinator meadows, trails, educational programming and more by contributing to the Brinton Run Preserve operating fund.
Brinton Run Preserve is currently closed to the public, but stay updated on our progress to open at the Brinton Run Preserve Facebook and Instagram pages.