As children, sisters Elizabeth Kuehner Smith, Ellen Kuehner and Robin Adams spent many summers fishing and canoeing at Laurel Lake, hunting for Lenape arrowheads along the shore and picking wildflowers in the woodland surrounding their grandmother's house in Laurel Springs, New Jersey.  The quaint town was once a rustic summer resort for Victorian-era Philadelphians seeking relief from the hot city.  It was also a summer retreat for celebrated 19th century poet Walt Whitman, who found solace and poetic inspiration traversing the woods and fields, notebook in hand. Today, Elizabeth is leading the effort to preserve their family land — now aspirationally dubbed "Whitman Woods" — in perpetuity as a lakefront sanctuary for wildlife and humans, too.
It's a familiar story. Many of us have witnessed the woods and streams we played in as kids consumed by development. "Whitman Woods" is the last notable open space in little Laurel Springs; its 3.75 acres embody the only natural area resembling the woods Whitman cherished. Every acre counts, especially in densely populated Camden County, which lies in southern New Jersey, the most populous state in the union.
Laurel Lake, part of the Big Timber Creek watershed, hems "Whitman Woods." Whitman considered it the "most beautiful lake in North America." Since the homestead that once perched on the lakefront was razed in 1973, countless visitors have been drawn to this peaceful remnant of Whitman's day. Their number includes pilgrims eager to retrace the poet's footsteps and immerse themselves in the green embrace of woodland understory, towering trees, chirping birds and delicate wildflowers. Depending on the season, one may encounter birders or artists, kayakers or skaters. Children explore here in summer and sled here on snowy winter days. The site is treated as a park in all but name. In addition to attracting humans, the wooded lakefront serves as prime foraging for wildlife, including Bald Eagles, Wild Turkeys, Painted Turtles, White-tailed Deer and Eastern Cottontails.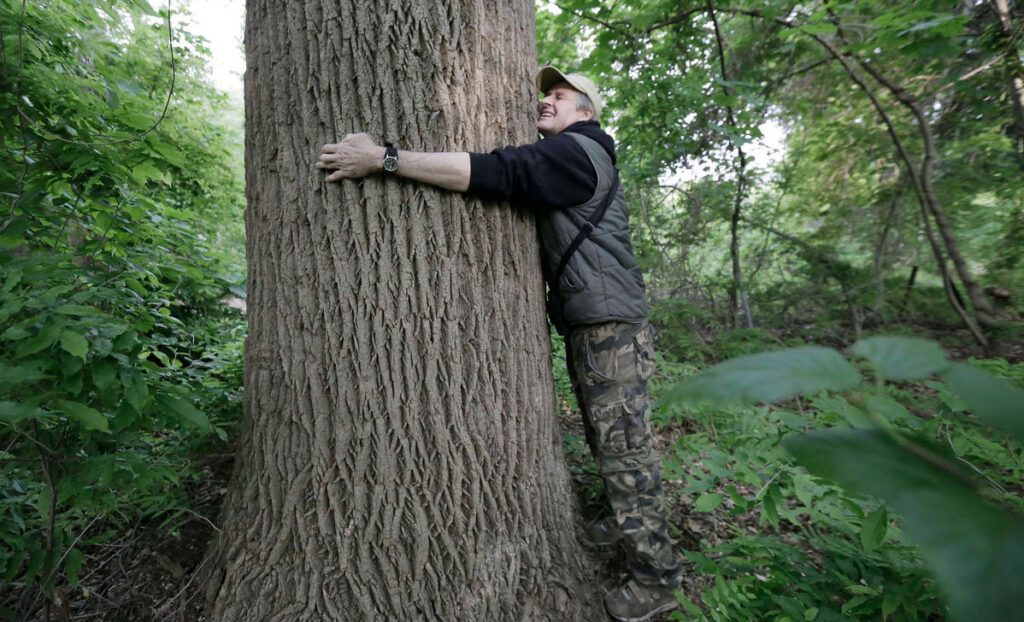 Lifelong "Springer" and renowned New Jersey field guide Lloyd Shaw notes, "The stately trees alone warrant protection, but the Barred Owl and Red-shouldered Hawk — both endangered in New Jersey — hunt here. Pockets of habitat like this 'green island' are integral to wildlife for survival." Shaw grew up nearby, played in the woods as a child and has documented the site's native fauna and flora for decades.
Environmental consultant and New Jersey native plant specialist Joseph Arsenault observes, "In addition to its biological significance, the site also supports globally restricted geological deposits. Exposed on its lakefront is the globally rare Vincentown Formation, comprised of ancient Eocene marine deposits found nowhere else but in a narrow band in southern New Jersey and again in Denmark and northern Germany. Establishing 'Whitman Woods' is our last chance to provide protection to a bit of prehistory, natural resources and a unique Big Timber Creek landscape."
Nearby, the borough's charming Crystal Spring Park honors Whitman with a unique, verse-inscribed boardwalk. This location was a known favorite of Whitman's for mud baths. Yet the park's low-lying location lacks the wide lake views, public lake access and wooded trails afforded at "Whitman Woods."
The Kuehner family has long recognized the area's need for permanently protected open space, and has been committed to conservation over the prospect of development. Prior to her mother's death in 2009, Elizabeth was entrusted with conserving the land. In 2012, she formed the "Whitman Woods" Project (WWP) Advisory Board in the hope of achieving a simple, low-impact conservation solution that will preserve wildlife habitat, permit passive recreation and pay homage to Walt Whitman's legacy. Both Lloyd Shaw and Joseph Arsenault sit on the WWP Board, along with a number of kindred volunteers from all walks of life. In 2015, the family connected with North American Land Trust, which is serving as a lead project adviser and a chief conservation collaborator.
First a Vision Statement was distilled: "Save from development and preserve in perpetuity a rare, wooded 3.75-acre lakefront tract in the New Jersey locale where iconic Poet Walt Whitman famously sought renewal and inspiration in the embrace of nature."
Next a Site Plan was developed in collaboration with a team of pro bono surveyors, architects, environmental consultants and engineers. Elizabeth recalls, "Our landscape architect Amy Cieslewicz kept asking the hypothetical 'What would Walt want' question, so his 19th-century perspective became our guidepost." The resulting low-impact plan calls for a lake overlook, expansion of existing trails, stabilizing the muddy canoe landing with native pebbles and creating rain gardens to mitigate adverse runoff into the lake. Two kiosks will welcome and orient visitors, and a split-rail fence will define the park boundary. The plan's authors intend that the wild character of the woods and glen be preserved for bird walks, poetry readings and painting en plein air.
To get this far, $150,000+ in services, pledges and donations has been contributed to date. Preserving these woods in perpetuity is a goal shared by locals and countless outsiders, including Whitman scholars. This future, however, is uncertain.
Protecting "Whitman Woods" from development is a big lift.  And while tiny Laurel Springs supports conserving the woods, ideally, the land should be conveyed to a qualified conservation steward, and then reclaimed and maintained as a passive park. To realize this ambitious goal, a minimum of $1.2 million must be secured to first create and then endow the park. The operating fund for Whitman Woods has been exhausted, and the family can no longer hold the land.
Ensuring that this sacred spot's wild inhabitants can continue to thrive here, and that human visitors can always seek Nature here, remains the dual imperative.
Visit WhitmanWoods.org to learn more, and follow Whitman Woods Project on Facebook.