Overview: Listed as threatened or endangered in most states, the Yellow-Fringed Orchid ranges from southern New England west to southern Ontario (historic), southern Michigan, Illinois south along the coastal plain to Florida, and west to Texas, Oklahoma and Missouri.  Its flowers are bright yellow to orange in coloring, with distinctive fringed lips, and clustered in racemes.  They can reach up 1 meter in height with lower leaves that are 30 cm long and 3 to 6 cm wide, with smaller leaves growing toward the flower.  They typically bloom from late June in the North to late September in the South.  Historically, the Native Americans—particularly the Cherokee and the Seminoles—used this flower and its roots for medicinal purposes, such as treating digestive problems, headaches and snakebites.
Habitat: P. Ciliaris prefers sunny spots and acidic soils.  It can be found in sedge bogs, swamps, marshes, wet sandy barrens, moist woods, wet meadows, prairies, and deep humus of upland Eastern forests.  It is dependent on fires to recreate open growing conditions and is pollinated by large butterflies, particularly swallowtails.
Threats and Management: The Yellow-Fringed Orchid has declined as a result of loss of habitat caused by fire suppression, harvesting, and changes in land management practices.  One way to manage for them is to maintain open habitats to encourage pollinator access to the species.  In addition, sand excavation, ditch clearing, minor draining or flooding activities can create habitat suitable for colonization with their wet, exposed, thinly vegetated sandy soils.  Cutting and burning can also result in increased numbers of the P. Ciliari.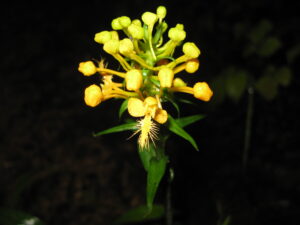 This particular Yellow-Fringed Orchid was captured on camera by NALT Conservation Biologist, Peter Smith at the Three Sisters property under easement in Tennessee.
Sources: http://www.newenglandwild.org/docs/pdf/platantheraciliaris.pdf
http://plants.usda.gov/core/profile?symbol=PLCI2
http://www.fs.fed.us/wildflowers/plant-of-the-week/platanthera_ciliaris.shtml