By Monica McQuail and Amy Bruckner
Did you know that one of the oldest food forests is located in Downingtown, Pennsylvania, just a few miles from NALT's headquarters? In fact, many residents and motorists probably walk or drive past these significant trees without even realizing it.
Planted from 1921 through the 1960's, these fruit and nut trees represent the life work of agricultural pioneer, John W. Hershey. Born in 1900, Hershey was a visionary in his day. He worked hard to spread his idea that, instead of planting large swaths of single crops like wheat or corn, farmers should grow grass and grain under rows of trees. The purpose of the trees was to control erosion with their roots, provide shade for the crops, and feed livestock with the fruits and nuts that would drop to the ground. With this holistic approach, the employment of agroforestry would save farmers money, while creating more diverse crops and healthier soils, healthier farm animals, and healthier humans.
To keep the tradition of John Hershey alive, NALT's staff and volunteers soon will be planting approximately 30 Hershey trees, including nine different species, at Brinton Run Preserve in Chadds Ford, PA.
In 1921, John Hershey started a small nut tree nursery on eight acres in Downingtown. In the midst of the Great Depression, Hershey left for Tennessee to lead the Tennessee Valley Authority's new Tree Crops Division. On his return to Downingtown, Hershey expanded his farm to about 75 acres.
Hershey made it his mission to seek out the best native trees—the best fruiting mulberries, pecan trees that produced thin shells around their nuts, the sweetest honey locust pods, and acorns that weren't bitter—and plant them in his nurseries in Downingtown.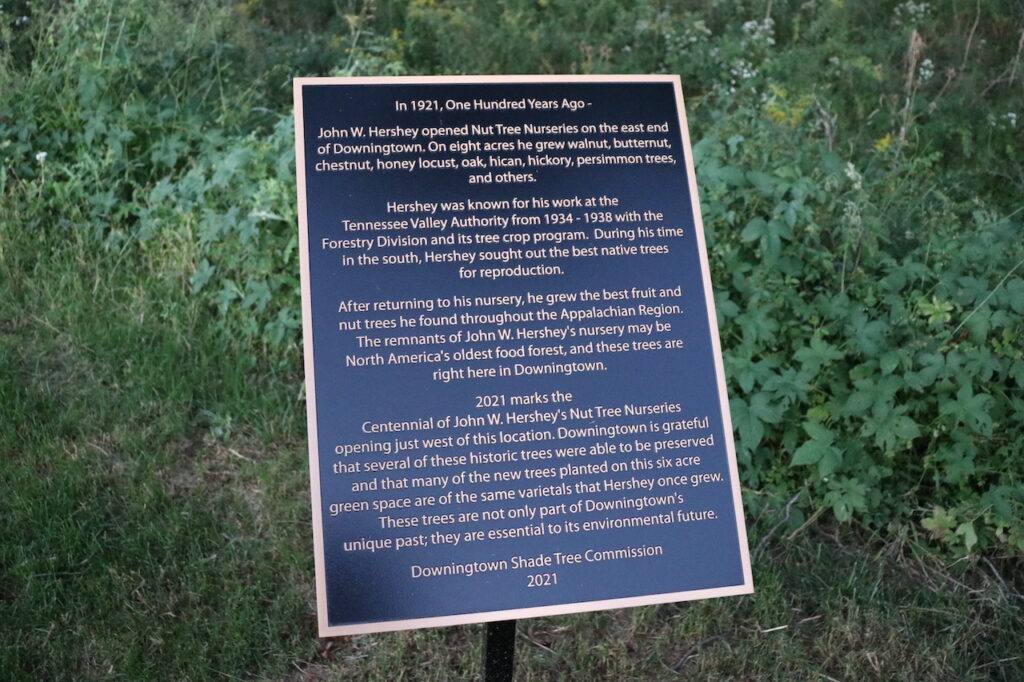 You can find them along Lancaster Avenue. They stand next to Downingtown United Methodist Church and Downingtown Friends Meeting and in front of Bishop Shanahan High School and a new apartment complex called The Point at Downingtown. Further west, there's a whole 72-acre forest of them in a private neighborhood in Guthriesville.
Standing tall in straight lines, their trunks are encircled by horizontal lines that resemble a fashionable turtleneck. These lines are scars that were produced by grafting, a technique used to attach a little branch of a desired tree variety to a compatible tree of the same or closely related species.
Hershey's farm and nursery was incredibly diverse and held an enormous wealth of every type of tree crop imaginable: filberts, blueberries, English and Black walnuts, chestnuts, peaches, cherries, pears, jujubes, sugar maples, chinkapin and bur oak, crab apples, mulberries, wild plums, persimmons, honey locust, pecans, hicans (cross between a pecan and a hickory), hickories and more. He recommended the following for hog feed: nuts, honey locusts, persimmon, white oak, mulberries, paw paws; for chickens he recommended serviceberry, mulberry, persimmon, pawpaw, mountain ash, haws and hawthorns and cracked nuts for winter feeding.
Former nursery rows grew into a thick jungle and the weakest trees were weeded out by the strongest, leaving only the most robust specimens. The food forest literally created itself as a highly diverse and productive system out of the nursery stock. The remaining trees were never watered or fertilized, rarely pruned, and certainly never sprayed. The ones surviving today are truly the best!
Today, there are horticulturists and inspired gardeners working to save these trees from development and educate the public about their existence. Picking up where Hershey left off, horticulturist Dale Hendricks is devoted to this effort.
"We want to build enough public support in Downingtown, so you can enjoy a walk out of the shopping center to visit these trees," said Hendricks, who is the President of Green Light Plants, LLC, in Landenberg.
Wanting to preserve what trees he could, Dale gave talks at East Brandywine Historical Society and Downingtown Library, which garnered enough interest to create the Downingtown Tree Commission to help save these trees. In 2021, the community celebrated the 100th anniversary of Hershey's first tree planting in Downingtown.
NALT this spring will plant 30 Hershey trees from nine varieties at its public preserve, Brinton Run Preserve. Located at 6 Oakland Road, Brinton Run Preserve's 71 acres support a variety of wildlife habitats, including woodlands, fields, streams and a pond. The preserve is also one of the most important tracts on the Brandywine Battlefield.
In addition to the Hershey trees, NALT plans to plant 225 native trees at Brinton Run Preserve. In 2022, NALT received a $5,000 grant from The GIANT Company and Keep Pennsylvania Beautiful to purchase the native trees for the public preserve.
On May 6, 2023, NALT will be holding a community tree planting event at Brinton Run Preserve. If you would like to volunteer at the event, please sign up at the EventBrite page